Penggunaan Eufemisme dalam Komentar di Postingan Akun Instagram Akun @nadiemmakarim
Keywords:
euphemism, Instagram, Nadiem Makarim
Abstract
Social media is an application that humans can use to communicate, one of which is Instagram. In communicating, the language used is polite language or contains euphemisms so as not to cause misunderstandings with the interlocutor. In this study, research was conducted on the types of euphemisms contained in the comments on the Instagram account @nadiemmakarim. The purpose of this study is to describe the types of euphemisms contained in the comments of the Instagram account @nadiemmakarim. This research is in the form of a qualitative descriptive with the data source of the Instagram account @nadiemmakarim. The data is in the form of 35 comments and analyzed using the agih method and the dressing technique. The results of this study found that there are figurative euphemisms, clipping euphemisms, acronym euphemism, one word euphemisms to replace another word, and jargon euphemisms. The most dominant type of euphemism is one word euphemism to replace another word with the function og softening the word so as not to offend the interlocutor.
References
Allan, K dan Burridge. 1991. Euphemism &
Dysphemism Language Used as Sheild and Weapon. Edisi 1, Oxford University. Oxford.
Evita, E. 2020. Eufemisme dalam Artikel Parenting pada Situs Media Daring Aura.Tabloidbintang.Com. Skripsi. Fakultas Ilmu Budaya. Universitas Sebelas Maret.
Herdiansyah, H. 2010. Metodologi Penelitian
Kualitatif. Edisi 1, Salemba Humanika. Jakarta.
Jonch, C. 2020. Seni Narasi Biblika. Jakarta
Kusuma, I M. 2018. Eufemisme dalà m Rubrik Berita Pendidikan dan Sosial pada Situs Berita Online Okezone.Com. Skripsi. Fakultas Ilmu Budaya. Universitas Sebelas Maret.
Mahsun. 2014. Metode Penelitian Bahasa
Tahapan, Strategi, Metode, dan Tekiniknya. Edisi Revisi, Rajawali Pers. Jakarta.
Newberry, C. 2021. 44 Instagram Stats That
Matter to Marketers in 2021. (https://blog.hootsuite.com/instagram-statistics/). Diakses pada 14 September 2021.
Puspitasari, F, Edy Suryanto Sumarwati, dan Edy
Suryanto. 2019. Pemakaian Eufemisme dalam Surat Kabar Solopos. Basastra Jurmal Bahasa, Sastra, dan Pengajarannya. 7 (2): 139-148.
Qorib, Z F, Widyatmike Gede Mulawarman, Purwanti. 2018. Penggunaan Eufemisme Pada Tayangan Berita Kriminal Patroli di Indosiar. Jurnal Ilmu Budaya. 2 (4): 402-411.
Saputra, N dan Nurul Aida Fitri. 2020. Teori dan
Aplikasi Bahasa Indonesia. Edisi 1, CV Kekata Group. Surakarta.
Setiawaty, R dan Agus Budi Wahyudi. 2018.
Bentuk dan Fungsi Eufemisme dalam Komentar Akun Facebook Presiden Joko Widodo Sebagai Bahan Ajar Bahasa Indonesia. Proceeding of The Urecol. 88-100.
Sudaryanto, 2015. Metode dan Aneka Teknik
Analisis Bahasa. Edisi 1, Sanata Dharma University Press. Yogyakarta.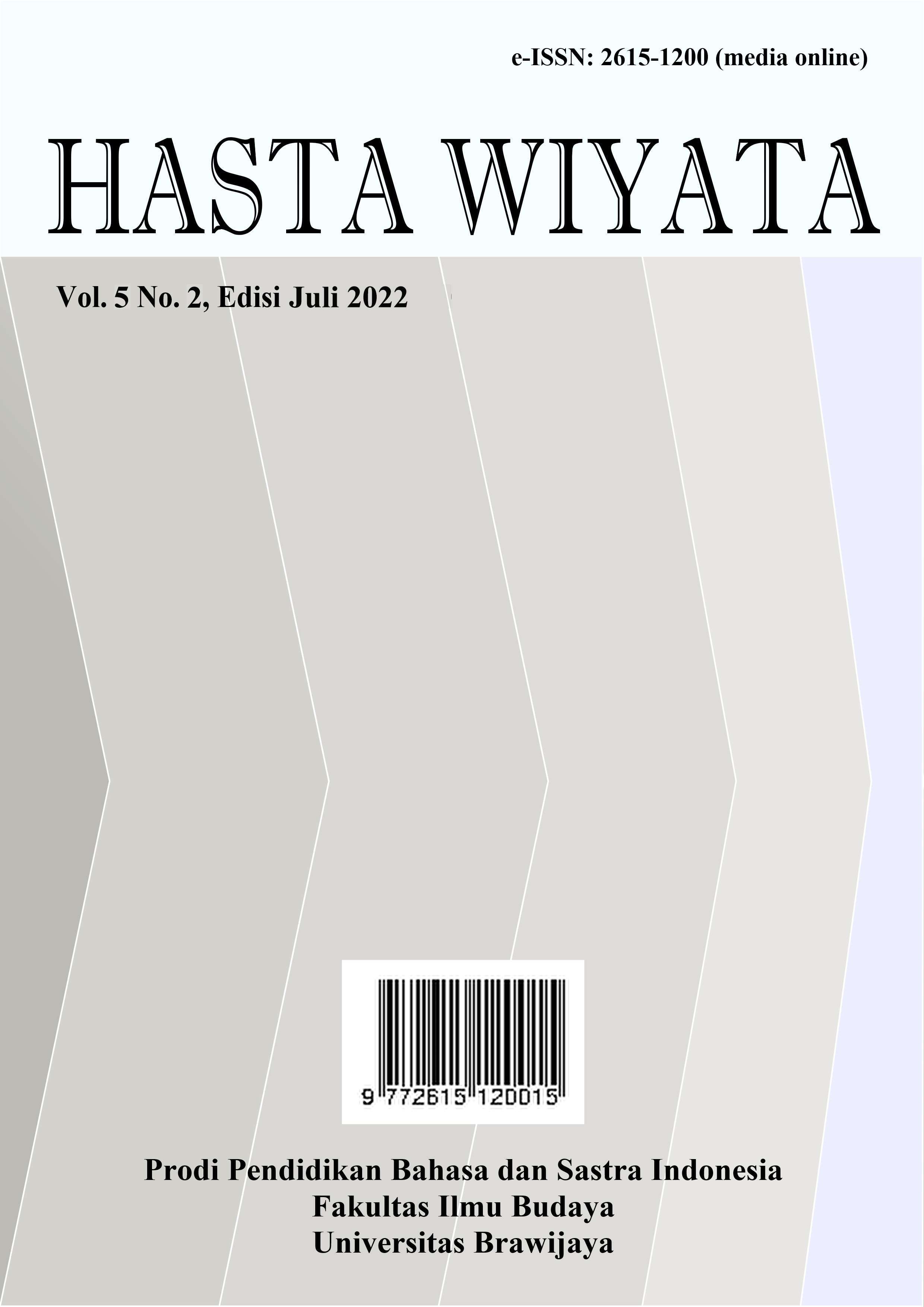 Downloads