ANALISIS ASPEK LINGUAL MANTRA KESELAMETAN PANOLAK SANGKIL (Kajian Etnolinguistik)
Keywords:
Dukuan, panolak sangkil safety mantra, lingual aspect.
Abstract
ABSTRACT: This study examines the mantra used by the people of Dukuan Hamlet, Metatu Village, Benjeng District, Gresik Regency when doing a safar (trip). The Panolak Sangkil Safety Mantra is used by the surrounding community to fortify themselves from disturbance by supernatural beings, evil spirits and spirits during the trip. This study uses an ethnolinguistic approach and interviews and documentation. The research data is provided by the method of observing, recording, and recording and presenting the data with data reduction, translation, validation, analysis, and interpretation. The results of research on the lingual aspect of the mantra found (1) repetition consisting of grammatical, lexical and semantic repetition patterns, (2) semantic decomposition, (3) saroja words, (4) metaphors, (5) mention of mythological figures, and ( 6) mention of god. From the analysis, it is found that the language aspect of the mantra is related to the culture of the Gresik people.
References
Baihaqi, Muhammad. 2016. Mantra Nyarang Udan Masyarakat Gresik dan Pemanfaatanya Sebagai Materi Alternatif Apresiasi Sastra di SMA. Jember: Digital Repositoy Universitas Jember.
Geertz, Clifford. 1964. Religion of Java. Chicago and London : The University of Chicago Press.
Indirawati, Zahid. 2018. Definisi Kata Cantik, Language Studies. 12-13. Jurnal Unimas.Ils Diakses pada 12 Desember 2020.
Kadarisman, Effendi. 2010. Menguarai Bahasa Menyibak Budaya: Bunga Rampai Linguistik, Puitika, dan Pengajaran Bahasa. Malang: UIN-MALIKI Press.
Kridalaksana, Harimurti. 2011. Kamus Linguistik. Jakarta: PT Gramedia Pustaka Utama.
Lehrer, Adrienne. 1985. Semantic Fields And Semantic Change. Washington: University of Arizona.
Subroto, Edi D. 2011. Pengatar Studi Semantik dan Pragmatik. Surakarta; Cakrawala Media.
Tedy, A. (2017). Tuhan dan Manusia. El-Afkar Vol. 6 Nomor II, 6(1), 61.
Widodo, Wahyu. 2018. Mantra Kidung Jawa: Mengurai yang Lingual hingga yang Transedental. Malang: UB Press.
Jirnaya, I. K. (2015) Sinkretisme Hindu-Islam Dalam Mantra : Sebuah Kasus Dalam Teks Usada Manak. Adabiyyat: Jurnal Bahasa dan Sastra, 14(2), p.282.doi:10.14421/ajbs.2015.1420.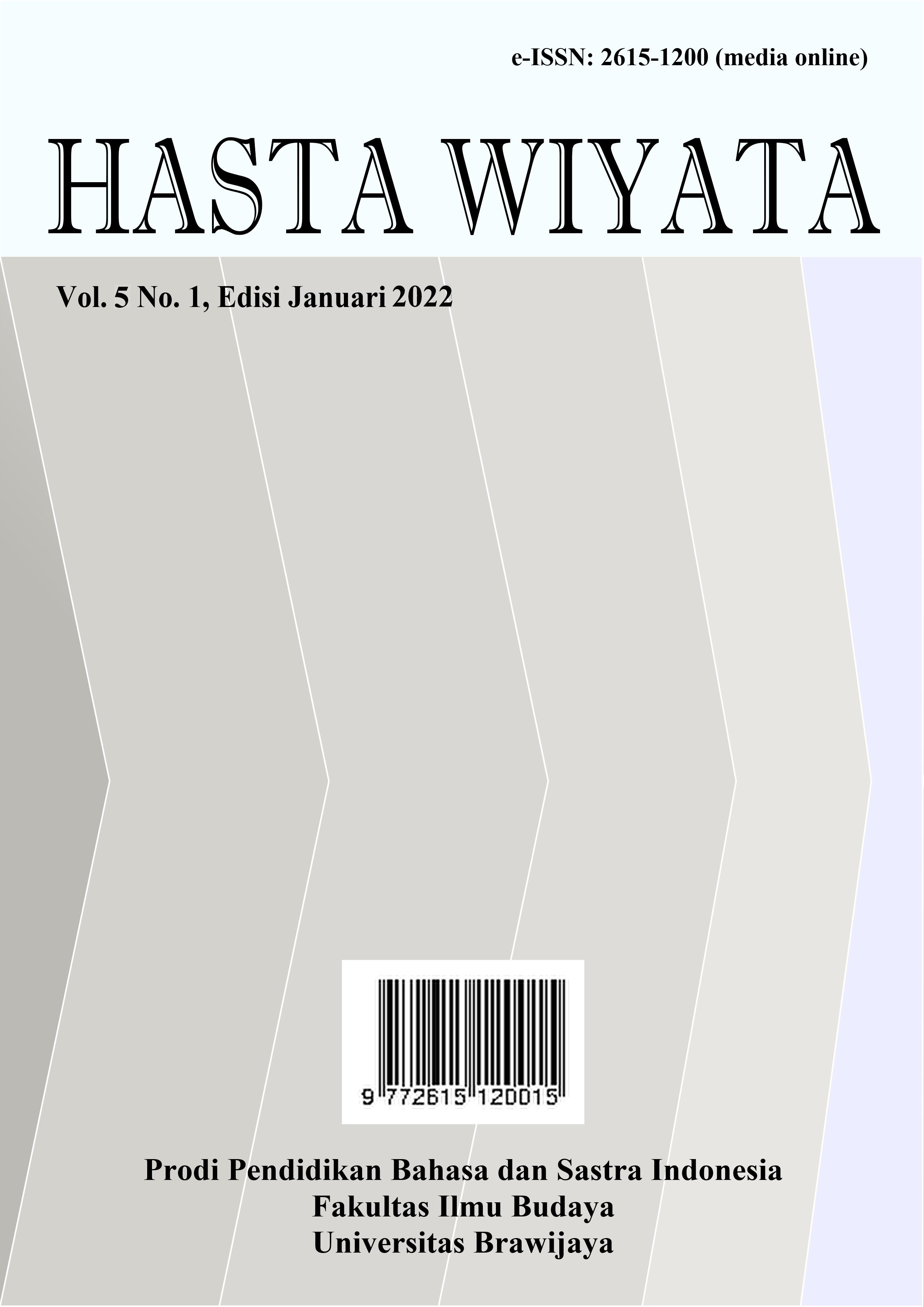 Downloads