WAYANG WALI SEBAGAI BENTUK AKULTURASI BUDAYA ISLAM JAWA DI KABUPATEN BLITAR
Keywords:
Wayang Wali, Ki Sudrun, akulturasi
Abstract
Wayang is a type of theatrical performance that is typical in Indonesia. Wayang Wali is one of the new puppet creations developed by Ki Sudrun from Blitar. This puppet is unique because it has several characteristics that are different from the wayang in general. These characteristics include: First, Wayang Wali has the names of characters that are different from other types of puppets. Second, raw materials from leather and wood. Third, the story play is not standard. Fourth, the songs sung in wayang wali are not limited to Javanese songs. Fifth, the musical instruments used to accompany the wayang wali consist of Javanese gamelan, modern musical instruments (guitar, keyboard, drums), and flying.
This research is a type of qualitative research with a descriptive approach. Data collection techniques were obtained by recording stories, observations, in-depth interviews, transcription (transfer from oral to written), and translation. The data analysis technique in this study was carried out by looking at the wayang wali performance, studying, understanding the characteristics of the form and content of the performance, as well as the form of acculturation of Javanese Islam in the wayang wali.
Based on the results of the research, the Wayang Wali in terms of its shape has the characteristics of its material using leather and wood. Judging from the characteristics of its contents, the wayang wali with the story "Without Play" has the theme and mandates obedience to Allah SWT. The acculturation of Javanese culture with Islamic culture in the wayang wali performance with the play "Lakone Without Play" can be seen in various aspects, namely (1) in terms of shape and color, namely the use of colors that are in accordance with the meaning of Islam. The form of the gunungan is adapted to Islamic philosophy (2) in terms of themes, namely the theme raised is the war of humans against their own desires, (3) in terms of characters and characterizations, namely the punokawan figures (Semar, Petruk, Gareng and Bagong) in Javanese wayang which are juxtaposed with Sunan Bonang figure (wali in Islam). (4) in terms of language, the language used includes three languages, namely (a) Javanese, (b) Indonesian, and (c) Arabic. (5) Acculturation in terms of musical instruments, namely the musical instruments used are (a) traditional musical instruments; a set of gamelan, (b) Islamic musical instruments; flying jidor, (c) contemporary musical instruments; piano, drums, bass drums. (6) in terms of the accompaniment song, the songs used are (a) Sholawat which contains the nature of Allah, (b) Suluk Pangkur Longing, (c) Prayer of Salvation, (d) Suluk Abdul Jalil, (e) Sholawat Asy Saydzili, (f) ) Song Lir Ilir, (g) Sholawat Badr, (h) Song Singer Cirebon, (i) Song Singer Tegal, and closed with (j) Sholawat Badr.
References
Ahmadi, Muchsin. 2002. Dari Hana Caraka ke Sastra Macapat dan Suluk (Hubungan Sastra Lisan dan Tulis). Prosiding Seminar Akademik, 1(2):9.
Claire, Holt. 2000. Melacak Jejak Perkembangan Seni di Indonesia. Bandung: Arti.line
Dermawan, dkk. 1996. Wayang Mbah Gandrung Sebagai Bentuk Kebudayaan Tradisional di Desa Pagung Kecamatan Semen Kabupaten Kediri. Malang: Penelitian OPF IKIP Malang.
Endraswara, Suwardi. 2005. Tradisi Lisan Jawa Warisan Abadi Budaya Leluhur. Jogjakarta: Narasi.
Harpawati, Tatik. 2004. Sumantri Ngenger: Sebuah Analisis Struktural Levi Strauss. Harmonia Jurnal Pengetahuan dan Pemikiran Seni, 1(5):2.
Koentjaraningrat. 1985. Pengantar Ilmu Antropologi. Jakarta: Aksara Baru.
Moleong, Lexy J. 2007. Metodologi Penelitian Kualitatif. Bandung: PT Remaja Rosdakarya.
Nazir, Moh. 2005. Metode Penelitian. Bogor: Ghalia Indonesia.
Notopertomo, Margono, dan Warijati Rahayu. Tanpa Tahun. 51 Karakter Tokoh Wayang Populer. Klaten: PT Hafa Mira.
Ra'uf, Amrin. 2010. Jagad Wayang. Jogjakarta: Garailmu.
Sedyawati, Edi, dkk. 2009. Sejarah Kebudayaan Indonesia. Jakarta: PT Raja Grafindo Persada.
Soekatno.Tanpa Tahun. Wayang Kulit Purwa: Klasifikasi Jenis dan Sejarah. Semarang: Aneka Ilmu.
Sujamto. 1992. Wayang dan Budaya Jawa. Semarang: Dahara Press.
Suyanto. 2002. Sekilas Tentang Wayang Malangan. Surakarta: Citra Etnika Surakarta.
Walujo, Kanti. 2000. Dunia Wayang: Nilai Estetis, Sakralitas, dan Ajaran Hidup. Jogjakarta: Pustaka Pelajar.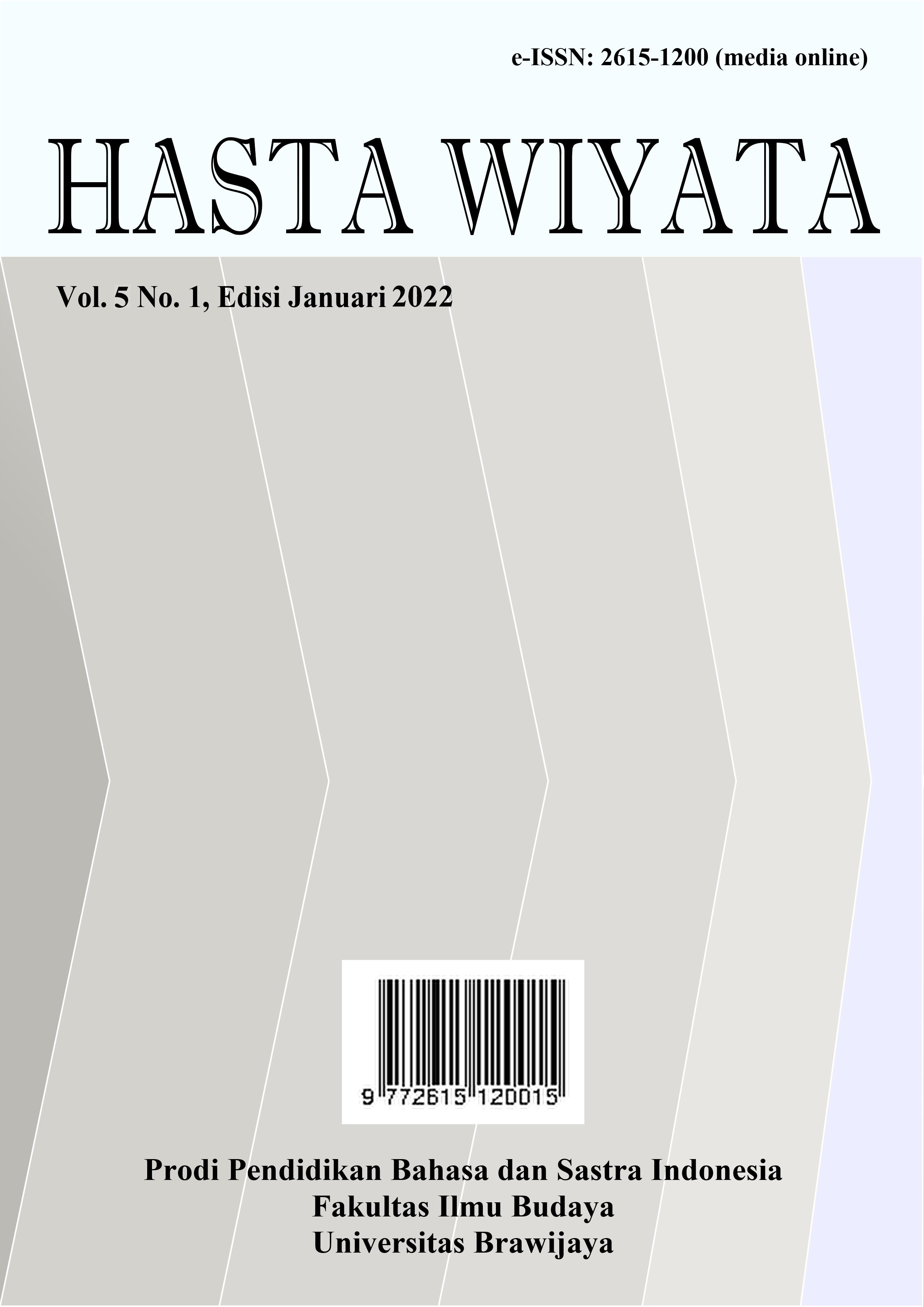 Downloads