DISTRIBUSI KATA SAPAAN "AREK" DAN "BOCAH" DI PERBATASAN KABUPATEN MALANG DAN BLITAR
Keywords:
greeting, arek, bocah, border area, Javanese
Abstract
This article aims to describe the distribution use of the greeting "arek†and "bocah†in the border area of Malang and Blitar Regency. The researchers di three research steps: observation, interview, and introspection. The data of this article are variations of Javanese in the border area of Malang and Blitar Regency, while the data sources are people who live in the border area. There are six research points are Arjosari, Ngreco, Karangkates, Jugo, Kalirejo, and Ngadri. The results of this article are the use of greeting "bocah†which is commonly spoken in Blitar Regency, also spoken by the people in Malang, whose area is adjacent to Blitar Regency. This proves that the dialects of Javanese in Blitar are more potent than the Malang Regency.
References
Ayatrohaedi. 2002. Dialektologi: Sebuah Pengantar. Jakarta: Pusat Pembinaan dan
Pengembangan Bahasa Departemen Pendidikan dan Kebudayaan.
Basuki, Ribut. 2010. Negosiasi Identitas dan Kekuasaan dalam Wayang Kulit Jawa Timuran di http://www.lontar.ui.ac.id (akses pada tanggal 28 Desember 2018).
Chamber, J. K dan Peter Trudgill. 2004. Dialectology. Second Edition. Cambridge: Cambridge University Press.
Holmes, J. 2001. An Introduction of Sociolinguistics (Edisi kedua). New York: Longman.
Lauder, Multamia. 2002. Reevaluasi Konsep Pemilah Bahasa dan Dialek untuk Bahasa Nusantara. MAKARA, SOSIAL HUMANIORA Vol. 6 No.1 [Internet]. [diunduh tanggal 30 November 2018]. Tersedia pada http://media.neliti.com.
Lauder, Multamia. 2007. Sekilas Mengenai Pemetaan Bahasa. Jakarta: Akbar Media Eka Sarana.
Lestari, TP dan Ika Nurhayani. 2015. The Distribution of The First Prossessor Variations in Madurese Geographic and Social Dialect. LITE Vol. 11 No. 2 [Internet]. [diunduh tanggal 20 Mei 2019].
Mahsun. 2014. Metode Penelitian Bahasa: Tahapan strategi, metode dan tekniknya. Jakarta:RajaGrafindo Persada.
Muhammad, 2011. Metode Penelitian Bahasa. Yogyakarta: Ar-Ruzz Media.
Purwaningsih, Apriyani. 2016. Geografi Dialek Bahasa Jawa Pesisiran di Desa Paciran Kabupaten Lamongan. Proceeding of 2nd International Conferenceof Arts Language And Culture [Internet]. [diunduh tanggal 8 Januari 2019]. Tersedia pada http://jurnal.uns.ac.id.
Sariono, Agus. 2016. Pengantar Dialektologi: Panduan Penelitian dengan Metode Dialektometri. Jakarta: CAPS.
Sutarto, Ayu dan Stya Yuwana Sudikan, 2004. Pendekatan Kebudayaan dalam Pembangunan Provinsi Jawa Timur. Jember: Kompyawisda.
Thompson, I. 2016. Javanese. Didapat dari http://aboutworldlanguages.com.
Wahyuni, Sri. 1991. Geografi Dialek Bahasa Jawa di Perbatasan Kabupaten Blitar dan Malang. [Internet]. [Diakses tanggal 9 Februari 2019]. Tersedia pada: http://mulok.library.um.ac.id/home.php?s_data=Skripsi&s_field=0&mod=b&cat=3&id=6608
Zulaiha, I. 2010. Dialektologi Dialek Geografi dan Dialek Sosial. Yogyakarta: Graha Ilmu.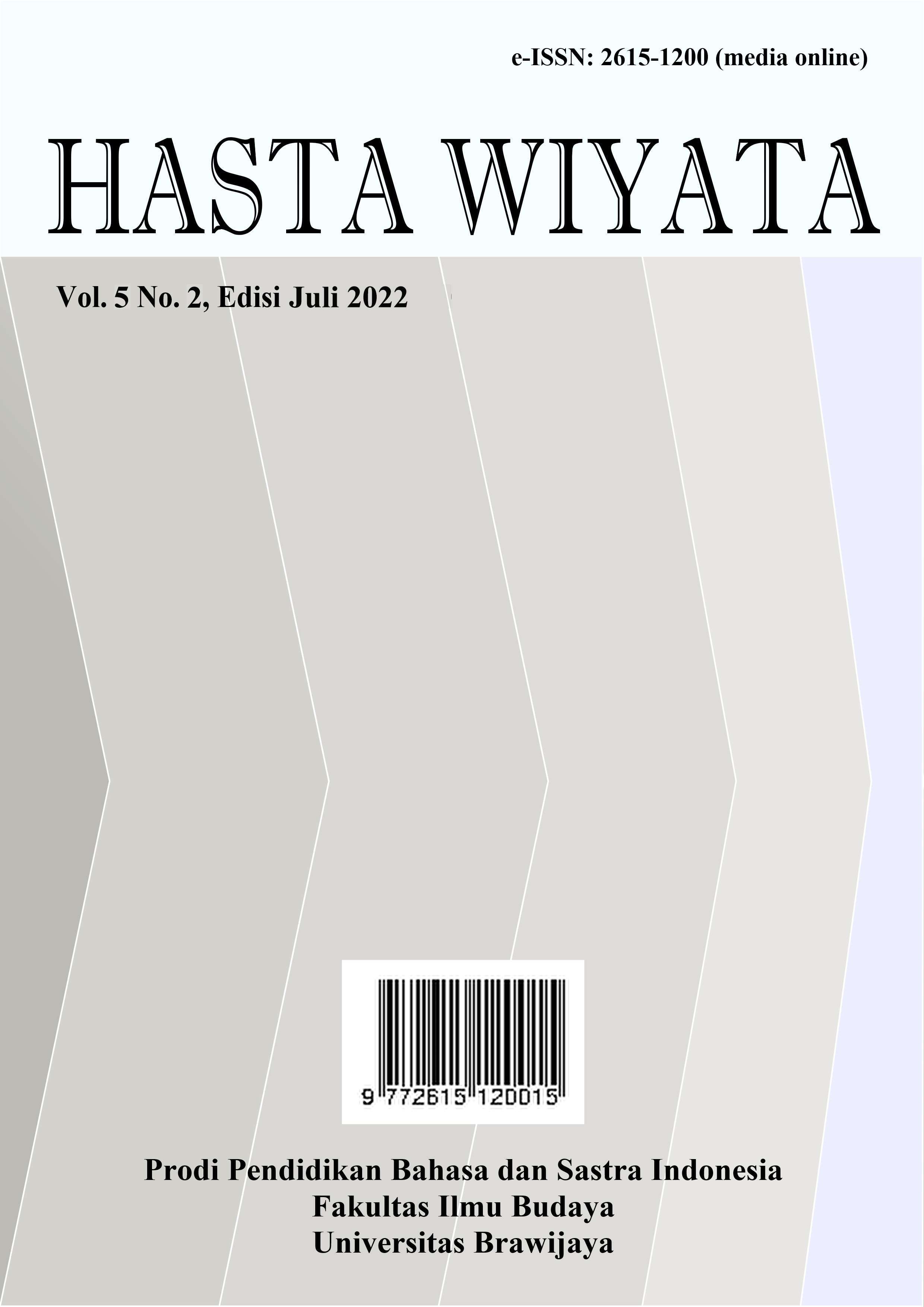 Downloads